By Milton Papadakis, Partner Analysis Business Unit  
A typical mistake that companies do in advertising, is that they are tempted to talk about everything they offer. But saying too much, doesn't work!
Can you improve ALL parts of your operations at the same time? With some clever prioritization, YES YOU CAN! Take a Supermarket for example: it can simultaneously improve the butcher shop, the cheese section, the corridor signage and so on…
However, can the supermarket communicate all these at once? I would rather say  this would not work, as it violates the fundamental rules of how human attention works. A simple and unambiguous message, formulated in the correct context has a high chance of being noticed by its intended target audience. On the contrary, many messages about the value of the product amidst the bombardment of messages that the average person receives every day, undermines any attempt of an effective communication. But also, the attempt to present your product/ service, without connection with its consumers, is a bit outdated as an approach.
Successful ads today do not talk about the value of the product, but about the improvement it infuses to consumer lives. Then you need to check whether your campaign message is delivered creatively enough (chart at the end) , i.e. whether it belongs to the upper 1/3 of ads, compared to what is currently out there. If you find that it belongs to the bottom 1/3, it is best not to spend in media, until you fix it. At a small cost and within a day, you can refer to a research expert to measure &  evaluate your content and let you know whether you are heading for success or failure.
And now we come to the media.
Television is nowadays overcrowded. The digital media, are flooded with messages, and once more we need our own message to stand out. In other words, to have an element that will attract attention, to be entertaining & also be different from competition. This is because we now know (see chart below) that a video is very strongly correlated with sales. Poor video means poor sales & brand building. The "R square" of a good ad can be found at around 0.92, i.e. at a very high correlation with growing sales. Therefore, our advertising spot must necessarily start with a "hook" that attracts attention, one that refers logically and directly to the product and not just to the element itself; and it needs to be "masterfully" made, so that in a few seconds, to offer the dramatization it needs.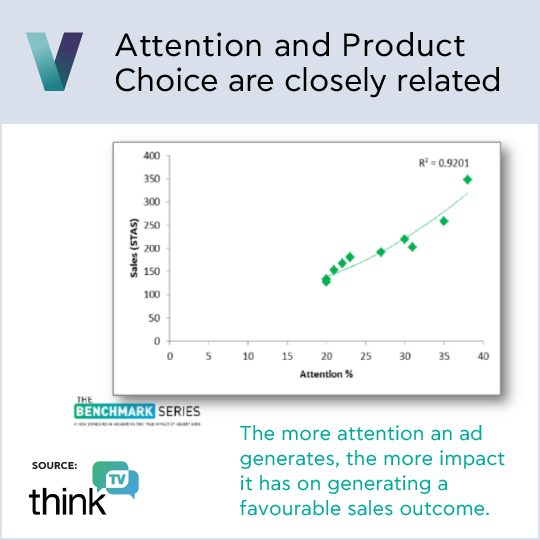 Is this easy? Of course not. Those that have excelled in this area and can inspire us, are the Japanese.  We therefore suggest that you ask your advertising agency to look for inspiration from what international experts, particularly the Japanese do in achieving dramatization within just a few seconds. Following on, you can go ahead and ask the media agency you work with, to explain the key media objectives – and why – they built the plan on those.
Monetization: Improving content and media has serious deliverables: If we assume that in a mature industry, advertising keeps branding strong and safeguards long term prospects, it also contributes 20% of short term sales (varies per segment). Thus, these higher deliverables of creativity and media prowess can secure 7-10% increased sales or billings, PLUS stronger branding in the long term, at a marginal increased cost.
VERALLIS is your partner in helping you set things right and ripe these increased sales. Is dedicated in supporting you to identify the best means of advertising; prior, during and after the launch of your campaigns. We can help you set-up the metrics you need to have before you even spend your first € and to incentivize your advertisers. To become both EFFECTIVE (schedule, negotiate, monitor) and EFFICIENT (plan meaningfully / do the right things). And improve your bottom line.